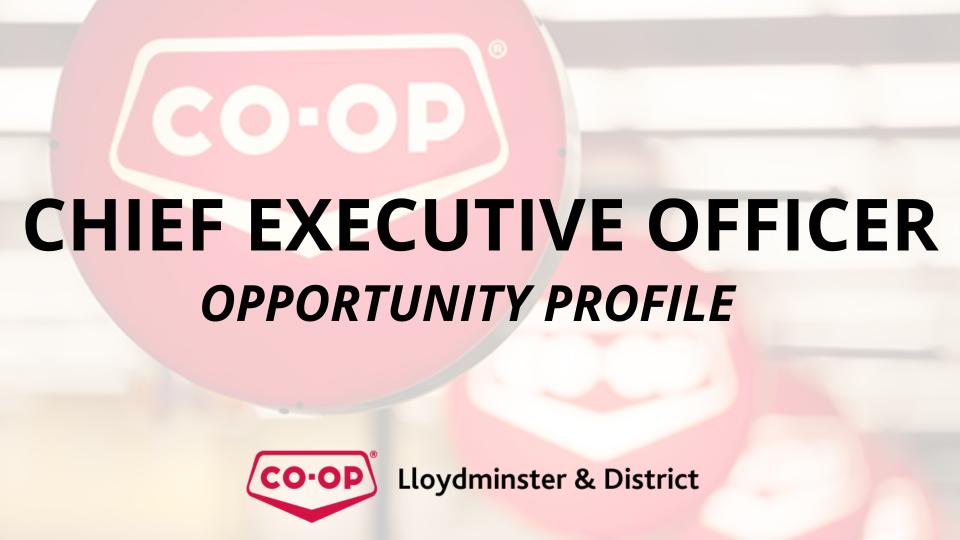 CEO – Opportunity Profile
October 29, 2021
Lloydminster and District Co-operative Ltd. - Chief Executive Officer

The Co-operative

Incorporated in 1914, Lloydminster and District Co-op (the Co-op) is an award-winning, diversified and locally owned co-operative retailer offering agricultural products, petroleum, propane, and grocery. With over 21,000 members and $118M in sales in fiscal year ending 2021, the Co-op consistently ranks as one of the top 25 co-operatives (in sales and patronage) within the Co-operative Retailing System (CRS) across western Canada.

As a member-owned organization, the Co-op plays an integral part in building their communities and has invested over $1,000,000 towards this interest in the last ten years. The Co-op is committed to supporting youth, senior citizens, amateur sports, arts and culture, education, and non-profit organizations.

In addition, over the past ten years the Co-op invested over $35M in capital expansion and renovation projects.

The Opportunity

Reporting to a Board of Directors, the Chief Executive Officer (CEO) has overall strategic, fiscal, and operational responsibility for the Co-op, including the management and coordination of the Senior Leadership Team (SLT). The CEO will provide leadership to the Co-op's strategic planning process and initiatives focusing on the continual improvement of the Co-op's business model, ensuring the long-term financial integrity and viability of the Co-op.

The Person

The ideal candidate will have executive experience leading a large, multi-location retail organization, incorporating solid business acumen in operations, finance, marketing, human resources, operations, and administration. They will embody an executive presence to inspire confidence and garner trust and respect. They will be approachable and accessible with a results-oriented and proven track record of executing a growth strategy.

The CEO will possess an entrepreneurial mindset and will operate with a high level of integrity while possessing excellent interpersonal skills.

The ideal candidate will have…

Bachelor's degree in Commerce and/or Business Management. Additional designations or certifications such as an MBA or CPA would be considered beneficial.
10+ years of experience in retail operations management, preferably in one or more of the following commodities: agriculture, propane, petroleum, and/or grocery. Experience working with Boards in a cooperative retail environment would be considered an asset.
Compensation and Benefits

A competitive compensation package will be provided including an attractive base salary, excellent benefits including matched pension contributions, relocation assistance, vehicle allowance and an executive bonus plan. Further details will be made available in a personal interview.

How to Apply

Interested candidates are invited to connect and apply online. Please email a cover letter and resume as a single attachment (in Word or PDF format) by December 9, 2021, to ceorecruitment@lloydminstercoop.com