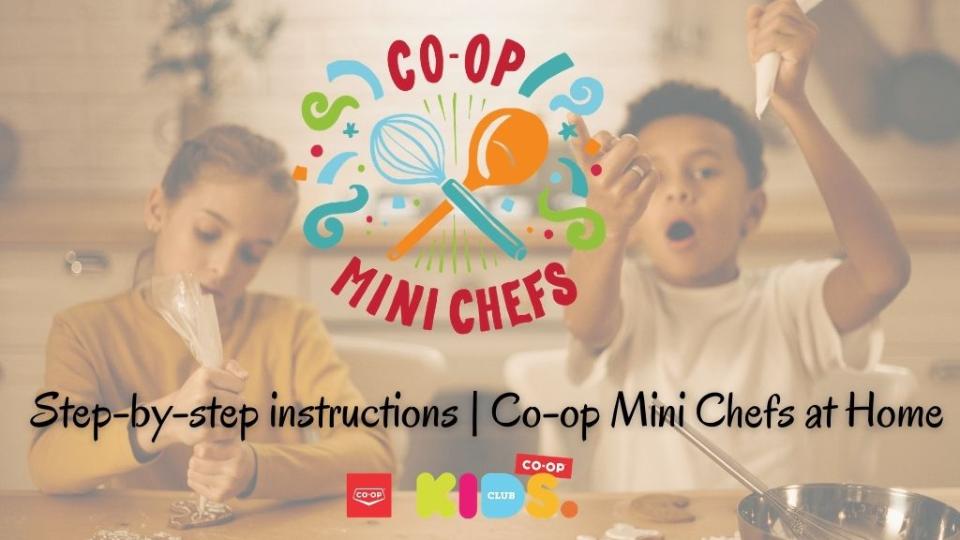 Co-op Mini Chefs at Home
November 2, 2020
Follow these step-by-step instructions to help make your Co-op Mini Chefs at Home kit.
WINTER SUGAR COOKIE CAKE KIT
Click the link below to see a picture of the Winter Sugar Cookie Cake
Step 1:

Wash your hands! Every Co-op Mini Chef knows before they do anything in the kitchen they must wash their hands with soap and water. Remember to sing "Happy Birthday" while you're washing. When the song is done, you can rinse and dry.

Step 2:

Open your Co-op Mini Chefs at Home kit, and take each item out of the box.

Step 3:

Spread icing gently on the top of each sugar cookie. Stack the iced sugar cookies on top of each other to form a 4-layer cookie cake.
Alternate: If you don't want to make a sugar cookie cake, you can ice each cookie individually and decorate as you desire.

Step 4:

Once your sugar cookies are stacked into a cake, swirl blue and white icing along the top of the cake.

Step 5:

Use the white icing tube to drizzle icing around the top of the cake. Let the icing slide down the sides of the cake, this is the icicles in the wintry wonderland! Add more icicles wherever you please.

Step 6:

Remove the penguin or polar bear, the marshmallows (these are snowballs), the snowflake ring, and sprinkles. Decorate the top of the cake any way you wish.
Fun options:
Do you have coconut flakes at home? Try adding some to the top of the cake for "snow" for the winter animals to play in.
Make two small 2-layer cookie cakes, instead of one big 4-layer cookie cake. Ice and decorate in a fun way and create a cool winter scene with your winter animal and snowflake ring.
Ice each cookie separately, and be sure to decorate a fun winter scene on each! You could try: snowshoeing scene, skating scene, snowstorm scene, snowball fight scene, and more.
Stay tuned for our next Co-op Mini Chefs at Home kit, coming soon to our Lloyd Co-op Marketplace and Neilburg Co-op grocery store.