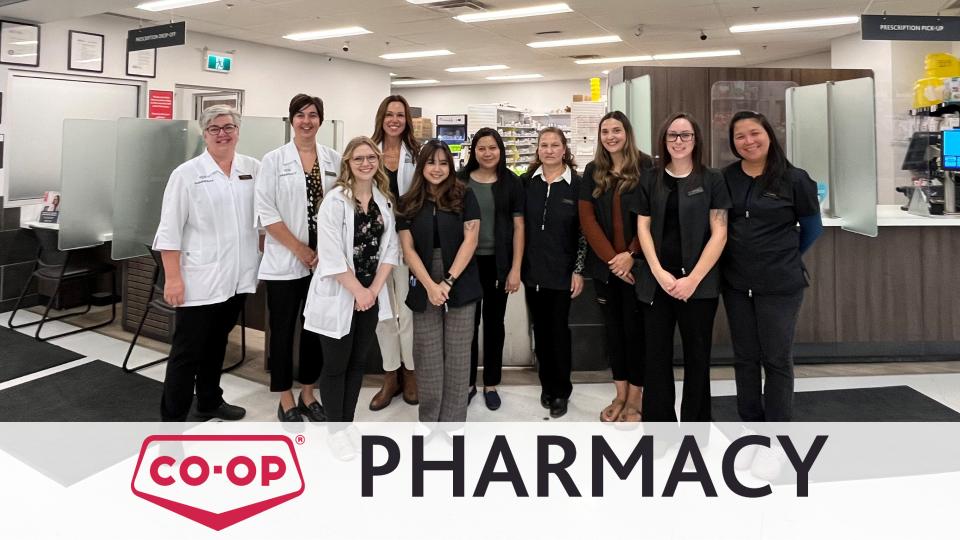 Co-op Pharmacy
April 17, 2020
Our professional pharmaceutical team provides caring service for individual patients, families, and long-term care centres.
Please see our Hours, Contacts and Location Info page for location details.
---
Lloydminster Co-op Marketplace Pharmacy
Pharmacist: Linda Michelle Teasdale
Pharmacist Practice Permit Number: 5678
Please view the pharmacy license here.

3606-50 Avenue, Lloydminster, AB T9V 0V7
pharmacy@lloydminstercoop.com
780-808-2180
Proprietor:
Lloydminster and District Co-operative Association Limited
#101, 4090-41 Street, Lloydminster, SK S9V 2J1
Proprietor's representative: VP Finance, Jade Hoffmann

Lloydminster Co-op Marketplace Pharmacy is required to provide, on the request of any patient, the name and practice permit number of any regulated member who provides a pharmacy service to the patient, or who engages in the practice of pharmacy with respect to a patient.
To view the Patient Concerns poster, click here.

Services
Our pharmacists safely provide an array of vaccinations, including those required before international travel.
During a medication review, our Lloyd Co-op pharmacists will evaluate your medications to ensure they are working together safely and effectively. Medication reviews can help you understand the importance of each of your medications, and put you on your way to better health.
Smoking Cessation Services
Looking to butt out, for good? Our compassionate pharmacy team offers complimentary smoking cessation appointments designed to provide education, resources, and support as you journey to quit smoking. Call for details.

Keep yourself feeling and looking great with the variety of health and beauty goods we have to offer. We have brand name products, as well as a line of store brand items.

Discover more: