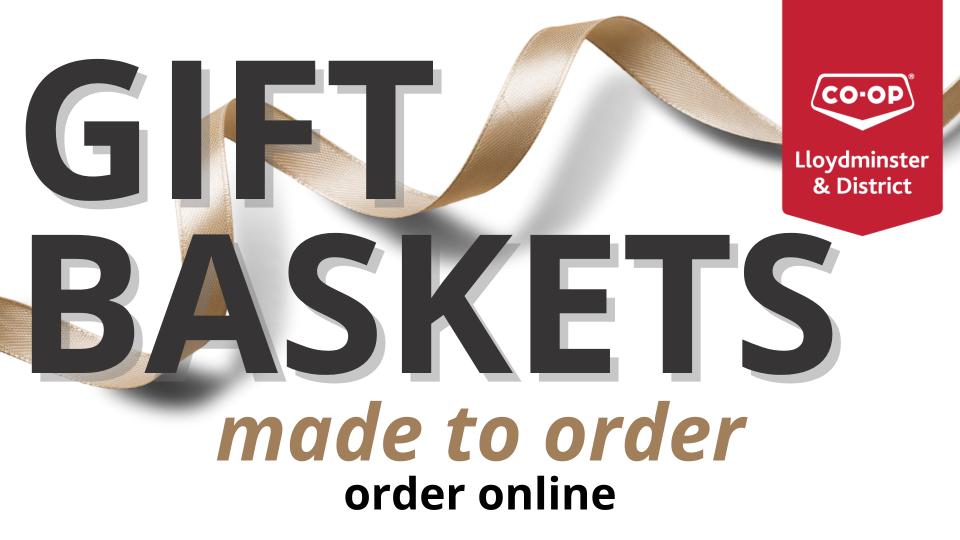 GIFT BASKET ORDERS
November 1, 2022
Do need a gift for an upcoming event? Order a gift basket from Lloyd Co-op Marketplace!
There are 5 options available including:
Sweet Delight

—

Sweet treats wrapped up with a bow. This basket includes items like chocolate, dried fruit, caramel popcorn, chocolate covered raisins, and Co-op Gold candies. A great gift for someone with a sweet tooth.
Salty Snacks

—

Salted nuts, jerky, sunflower seeds, kettle chips and popcorn, put together with a salty craving in mind. If sweets are not what you are looking for, this gift basket option is a great idea.
Tea Time

—

Two Co-op old fashioned mugs, honey, multiple teas, and cookies. This gift basket option is perfect for a warm relaxing evening in.
The Magnificent

—

This grande basket has everything you are looking to give to someone on any occasion. It may contain dried fruits, chocolate, kettle chips, olives, nuts, popcorn, jam or jelly, honey, and topping it off with Martinelli non-alcoholic sparkling juice.
Fresh Fruit

—

Fresh seasonal fruit wrapped into a basket perfect for gift giving. This basket can be customized to your price starting at $24.99. (Contact the Lloydminster Co-op Marketplace produce department for more information)
Place your order here.

Gift baskets are a great option for special occasions, sympathy, or anything in between. The team will connect with any questions prior to pick up. There must be a minimum 48 hours (2 days) notice. Pick-up will be required from the Lloyd Co-op Marketplace.

Discover more: