Meat Department Approved - New Summer Product
Actions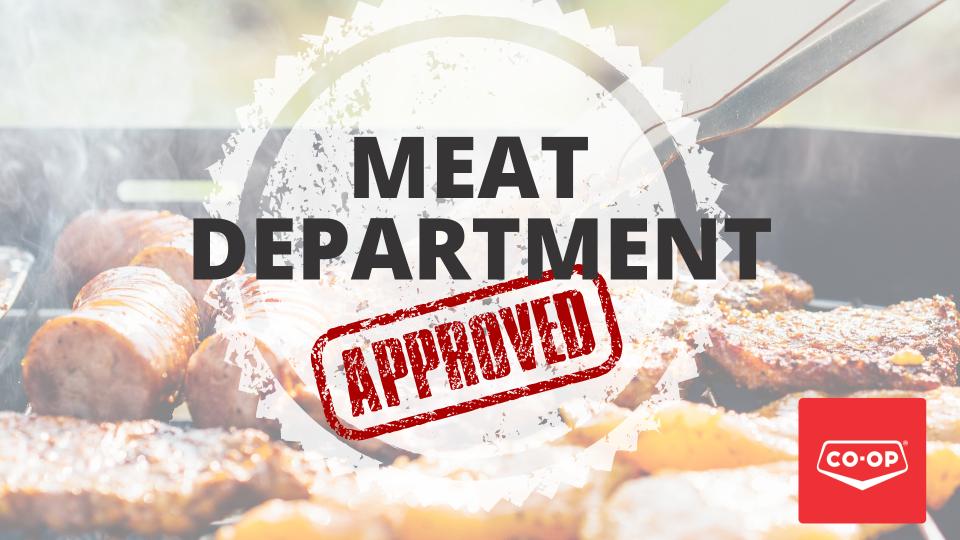 Meat Department Approved - New Summer Product
May 16, 2022
It's the summer of sizzle, and the Meat Team at Lloydminster Co-op Marketplace has a range of fresh, new products perfect for your grilling enjoyment. Product is prepared fresh right on site, and available in fresh and frozen options (some restrictions apply).
BBQ PACKS: Our popular BBQ packs are travel ready, so you can pick up a few then hit the open road to your summer destination. If you're enjoying a stay-cation, they make the perfect option for a delicious weeknight meal.
VALUE BBQ PACKS- These packs come freezer-ready and include top sirloin steak, Greek seasoned butt steaks, Farmer's sausage, plain burger patties, and chicken thighs.
PREMIUM BBQ PACKS- Treat yourself! Inside each pack you'll discover sirloin steak, Smoky Sweet glazed pork kabobs, Greek seasoned back ribs, seasoned handmade hamburger patties, and boneless, skinless chicken breasts.
Click here for recipe ideas.

KABOB PACKS: Back by popular demand, our Kabob Boxes are making a triumphant return! In flavours like Korean BBQ Glaze, Lemon Herb, Smoky Sweet, and Thai Chili Mango, you'll have trouble choosing just one. Each Kabob Box features two individually sealed packages of four (4) kabobs, with high quality protein including chicken, pork, and beef options.
PORK SLIDER ON A STICK: Brand new for summer '22, our Pork Slider on a Stick is sure to please your palate. These delights feature freshly ground pork, delectable seasonings, BBQ quality cheese (it doesn't melt away!) and are wrapped in bacon. Our team has assembled five options for your enjoyment, based on their flavour favourite:

Garlic Pork Slider:
Our meat department team member Darlene adores this flavour! We've nicknamed this slider recipe "The Dar", in her honour. Enjoy this salty-sweet garlicky delight topped with some creamy Havarti cheese, grilled bell peppers, stacked into a freshly baked bun.
Montreal Steak Spice Pork Slider:
Our Food Division Manager Dave likes the classics, and this one's as delicious as they come! "The Dave" features classic steak spice flavours of garlic, onion, cracked black pepper, and red pepper flakes. If you want to enjoy this as a meal, Dave suggests slamming the slider into a freshly baked smokie bun, then topping the slider with healthy dollops of Co-op Gold yellow mustard to finish.
Southwest Pork Slider:
"The Scott" is named after our Meat Department Manager, who likes a little spice! The Southwest Pork Slider features a taste of the Southwest with notes of paprika, cumin, and a little spice. This slider is plunked into a toasty bun, then topped with fresh Pico de Gallo. Smoky, juicy, and a little spicy, these are the flavours of summer!
BBQ Pork Slider:
If you know Co-op meat, chances are you've interacted with our meat department team member Steve. His favourite is a riff on the best of classic BBQ: hints of paprika, a squeeze of Dijon mustard, freshly grated cheddar cheese, and classic dill pickles, enveloped in a freshly baked hot dog bun.
Greek Pork Slider:
Mama Mia! Transport your tastebuds to Greece with the flavours of garlic, onions, basil, and dill. Our meat team member Tara loves grilling the Greek Pork Slider, placing it in a fresh Co-op Gold pita, then topping with Spiro's Secret Sauce.
Discover more: