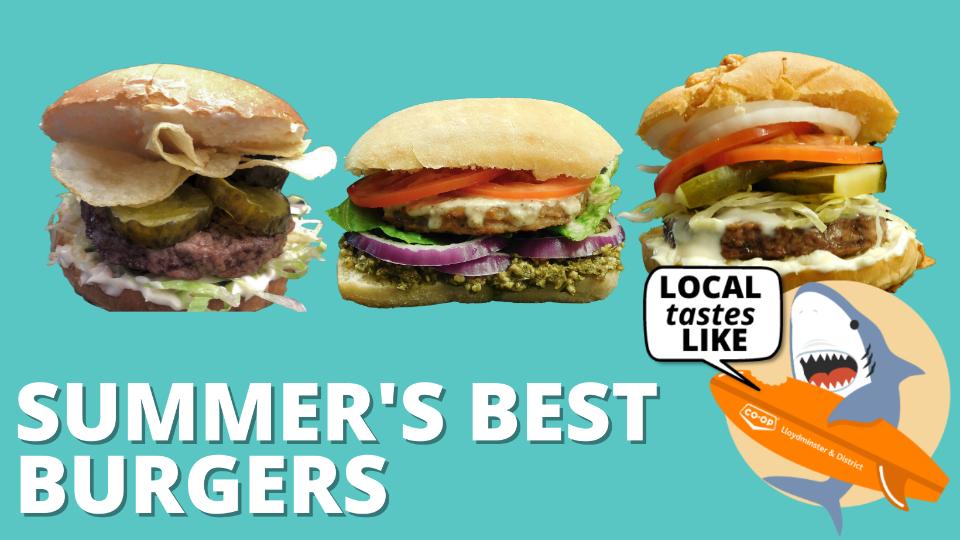 Summer's Best Burgers
May 16, 2023
This season, enjoy Summer's Best Burgers exclusively available at Lloydminster Co-op Marketplace! Co-op loves local, and our community collaboration patties feature the best of the season in local flavours you adore!
DONAIR BURGER- With Cedar Kabob
Honouring the rich flavour of slow roasted donair meat, our Donair Burger is sure to be a stunning addition to your summertime grilling repertoire. It's made by hand from fresh ground beef and packed with unforgettable seasonings including black pepper, and finishes with just a touch of heat. If you're a lover of donairs, you'll adore our take on this delicious classic.
GREEK SOUVLAKI BURGER- With Spiro's
Enjoy a taste of Greece right here at home with this freshly ground pork patty. The Greek Souvlaki Burger is made by hand and infused with oregano, herbs, spices, and a touch of bright citrus. We love to top our grilled patty with a dash of Spiro's exclusive Secret Sauce for an unforgettable taste sensation featuring fresh garlic, seasonings, and black pepper.
LAKE LIFE CAESAR BURGER- With Lake Life Caesar Co.
This freshly ground beef patty features a dash of Lake Life Caesar's famous premium premix worked straight into the patty, and features a sensational blend of Worcestershire sauce, seasonings, and spices. The patty is finished with a pinch of Lake Life Caesar's rimmer for that perfect semi-salty punch right before you dive in.
All three community collaboration patties are available exclusively at Lloydminster Co-op Marketplace, in the meat department, starting May 15.
Discover more: