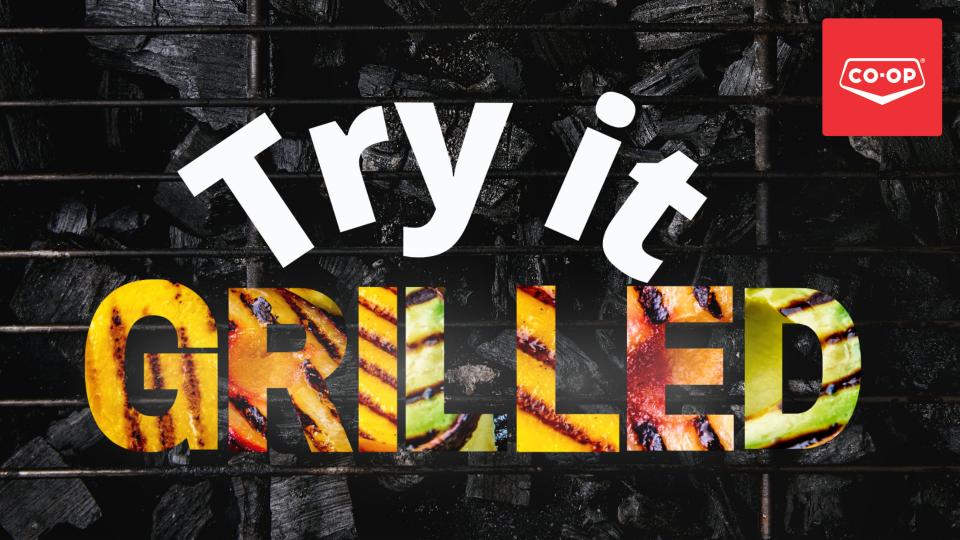 Try it Grilled
June 30, 2022
This summer, the Lloydminster Co-op Marketplace produce team invites you to "Try it Grilled"! Did you know you can grill almost any fresh fruit or vegetable? Grilling adds a smoky depth and unique texture to your veggies and can add sweet caramelization to the sugars in fruit.
The nutritional value of vegetables and fruit stays intact when you grill, and it's the next best thing compared to eating them fresh.
Preparation is complete in just minutes, and you can season with a range of your favourite herbs and spices. Our local produce team loves the simplicity of olive oil, salt and pepper, and a squeeze of fresh lemon when the veggies are finished grilling. Fresh grilled fruits are delicious when finished with a hit of fresh mint, a squeeze of citrus, and sprinkle of brown sugar.

Try it Grilled! Explore a range of decadent recipe ideas for grilled veggies and grilled fruits.
| | | |
| --- | --- | --- |
| Corn Recipe | Brussels Sprouts Recipe | Peppers Recipe |
| Onions Recipe | Cabbage Recipe | Romaine Hearts Recipe |
| Mushrooms Recipe | Zucchini Recipe | Asparagus Recipe |
| Yams Recipe | Potatoes Recipe | Watermelon Recipe |
| Citrus Recipe | Pineapple Recipe | Strawberries Recipe |
| Cantaloupe Recipe | Apples Recipe | Avocados Recipe |
| Tomatoes Recipe | Orange Recipe | Melon Recipe |
Play along this summer with Try it Grilled BINGO.
Download
and print off your play card for a chance to win.
Discover more: